Consulting Solutions
Centrix specializes in providing Work Disability Solutions.
These solutions include: Integrated Work Disability Prevention Program design including: implementing a Worker-Centric Approach, deploying best practices, and measuring Worker Engagement.
Our clients include:
Workers' Compensation – Monopolistic jurisdictions, Self-insured employers, and Private Carriers in competitive markets.

Non-Occupational Illness/Injury – We have been providing consulting and case management services to the Non-occupational injury/illness industry since 2005

Employers – Managing your employee absences and Vocational Recovery can be difficult but implementing best practices can make the process much easier.
We can help you find the right pieces to solve the Work Disability puzzle for your organization
Case Management
The successful outcome of preventing Unnecessary Work Disability is highly correlated to successful case management and helping the worker progress through the various stages of recovery and RTW.
Case Management activities can range from an initial intake to medical management to return to work planning and everything in between. However, to be successful at preventing Unnecessary Work Disability return to work is a required goal to achieve.
Vocational Recovery – Vocational Recovery is simply the process towards gainful employment. This can range from returning to their own job, transitional work, alternate work, and retraining.

Specializing in complex case resolution
Work Disability triage assessment
Ergonomic Assessments
Transferable Skills Analysis (TSA)
Vocational retraining and job search
Assess medical and rehabilitation needs

Coaching and Mentoring – Do you feel your vendor is engaging your workers enough? Do you need some guidance on a particular case?

We can provide coaching and mentoring to your vendors to help meet your expectations.

Sometimes a quick consultation is all you need. Other times, you might want to utilize us to help manage the claim but still maintain control. We can provide insights, tips, case strategy, and provide guidance on appropriate resources.
Path Back Survey
The Path Back to work should strengthen the worker's experience AND reduce duration. Most surveys focus on whether the worker received good customers service. Customer service is important but there is mounting evidence that it is not enough to solve the unnecessary work disability problem. Customer service is not a proxy for engagement. Your survey needs ensure you are looking at the factors the engage and activate workers in their recovery and RTW resulting in a timely RTW.
The benefits of understanding how your Path Back to work is running

Reduce time off work. We will show you where your gaps in your program are.
Improve worker reentry after an illness or injury. Do you know if your transitional duty program is promoting or inhibiting the return to regular duties. Is it working efficiently or is it prolonging total duration.
Increase accountability from service providers. How do you know if your TPA is doing a good job. Are there blind spots in your program that are creating unnecessary delays in RTW?

Web based, Fast, Cost Effective – We look after it for you. We deploy the surveys so they remain confidential. We send out the invites and reminders.

Data driven – Qualitative and Quantitative data analysis is a potent combination to uncover the insights necessary to make meaningful adjustments to your Work Disability Prevention Program. We apply industry experience, data analysis expertise, and behavioral insights into your survey data. This is where the gold is. We will walk you through the findings and how to implement the recommended improvements.
You need a system to measure how you are doing bring workers back to work, after an injury or illness, and preventing the harm of unnecessary work disability.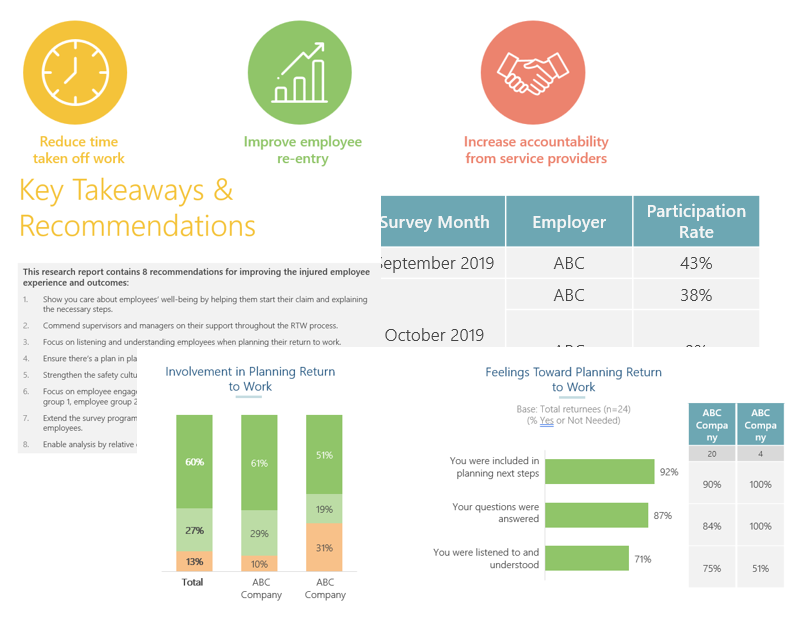 Training
We offer the most advanced training in Work Disability Prevention and a Worker-Centric approach. Our training is for anyone who interacts with workers in their recovery and return to work.
MAP™ Training – Motivation and Action Planning is the only truly Worker-centric model for Work Disability Prevention available.

Become MAP™ Certified – Certification in the only Worker-Centric Approach coming soon. Contact us if you want to be on the list to be notified.

Certified Work Disability Professional – The only certification for a Work Disability Professional coming soon. Contact us if you want to be on the list to be notified.
Our training is utilized by industry leaders, workers' compensation boards, and employers who want to make a difference in preventing the harm caused by unnecessary Work Disability.
Absence Management
Our Integrated Absence Management System gathers information from the employee about their absence type and duration, and reports the related data to a centralized environment. Data can be used to initiate early intervention processes, thereby saving precious time and avoiding costs, and data are easily transferred to staffing and scheduling systems organizations may use.
Day Zero Reporting – Delays in reporting can add up to 51% to your work disability costs

Web based, Fast, Cost Effective – Real Time Absence Management through Automation is a perfect solution to efficiently manage absenteeism and realize true cost reductions.

Data driven – Do you know what 1 day of duration costs? Do you know if your workers are returning to work beyond expected duration? Do you know who needs early intervention and who doesn't?
Anyway you cut it, you need a system to track your absences that provides you with meaningful insights not just a way to log the absence.